Stay tuned and sign up if you want to be kept in the loop of RRB updates:
Presenters of an oral communication or a poster can send in their picture to win the GOLDEN CROP AWARD !
With the goal to associate Art with Science, this photo contest is open to researchers and PhD students presenting an oral communication or a poster at RRB 2023.
Any photo as part of an oral communication or poster presented at RRB 2023, can compete for winning the GOLDEN CROP AWARD, based on an Oscar statue, plus an Extreme Sports Cam INTEMPO and a special gift box. One photo per oral communication or poster (jpg, 2Mo max) and its descriptive title have to be sent by e-mail to: taloua7@gmail.com before May 29th 2023.
All photos will be printed in A4 format and will be on display in the exhibition hall during RRB 2023 conference on a dedicated board.During the 3 days of the conference, RRB 2023 participants are invited to deposit their ballot paper for electing the Best Photo 2023 in the box located close to the photos board (booth 4A7, DO IT). The winner will be announced during the closing ceremony on Friday, 2 June.
Flashback of previous Golden Crop Awards at http://goldencropaward.blogspot.fr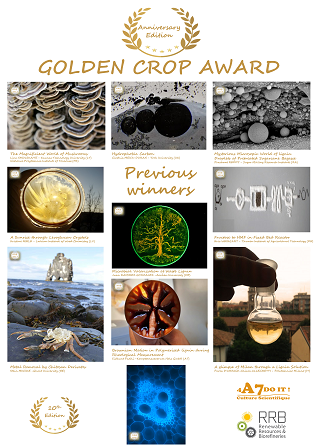 Newsletters of previous RRB conferences: